Sunbed Rush
€ 14,95
In Sunbed Rush you can finally beat the morning madness without having to get up early! Dominate the resort by reserving the best sunbeds and annoying other guests!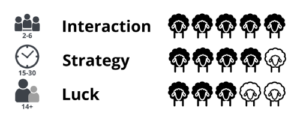 Overview
Remember going on a holiday? Staying at a really nice resort, with a beautiful room, great facilities and amazing pools. The only downside is…the sunbeds or better said the lack of it. It's like everybody is reserving the best spots… even though nobody is in the pool! 🙁
So what do you do? Do you take the sunbeds at the back of the resort and spill your coffee over the towels that you pass? Or do you get up early to join the madness?
Join the holiday morning madness without getting up early!
Place your towels to reserve your sunbed. Secure your sunbed with an object to make it look like your really in the neighbourhood. Or place a guest on your sunbed; a guest who will help you with his or her quirks. However, as the game advances, the resort will organize activities, potentially luring your guests away and leaving your towels unattended…on top of that beware of the pool boys who will clean up your unattended towels!
Sunbed Rush is a short and very interactive game which can be played anywhere… and is extra fun on holiday. So make sure to secure the best sunbeds to win this game! Use the downloadable score card to help you calculate the points at the end of the game.
Note: At this moment we only sell the Dutch version in our webshop – English version is available at The Game Crafter
Gameplay
In Sunbed Rush players reserve sunbeds at the pools to earn the most points at the end of the game. Earn points for having the most towels at a pool and in addition you earn 1 point for each unoccupied towel (towel without an object or guest).
Every player starts with their own 8 towels in their hand. The game is played in 8 game rounds. After 8 game rounds your hands are empty and the game ends. Time to count the points and check who dominates the resort!
Each game round consists of 4 phases
Video's